It's October!  The MakerSpace is up and running and that means students are ready for new ways to create and explore something new.  What better way then to check out these new ideas for October's Creation Station fun?!
Five Little Pumpkins: The blog, Preschool STEAM (Storytime STEAM: 5 Little Pumpkins) has fun idea that you can pair with a story to get kids creating and reading at the same time.  It's a win-win.  The idea is the students use popsicle sticks and blocks to create a structure that can hold 5 (or more) candy pumpkins that are popular this time of year.  If you can't use food in your school, you can use plastic caps from pop bottles or baby food/applesauce pouches.  Students may only use the popsicle sticks and blocks so it's an easy activity to set up and do with many students or groups.  Pair this activity with the book, Five Little Pumpkins by Dan Yaccarino for a great reading tie-in.  Click here to download a ready to go direction sheet.
– Step 1: Make Your Structure
Create a structure using only blocks and popsicle sticks.
– Step 2: Make the Bridge
Use a normal speaking voice.
Use only popsicle sticks and blocks.

The structure must be able to stand up all by itself without being held, taped to the table, wedged between tables, leaning up against something, etc.
– Step 3: Go For It!
After you have made your structure, start putting the pumpkins onto it.  Can it hold 5 pumpkins?

Challenge: How many pumpkins can your structure hold?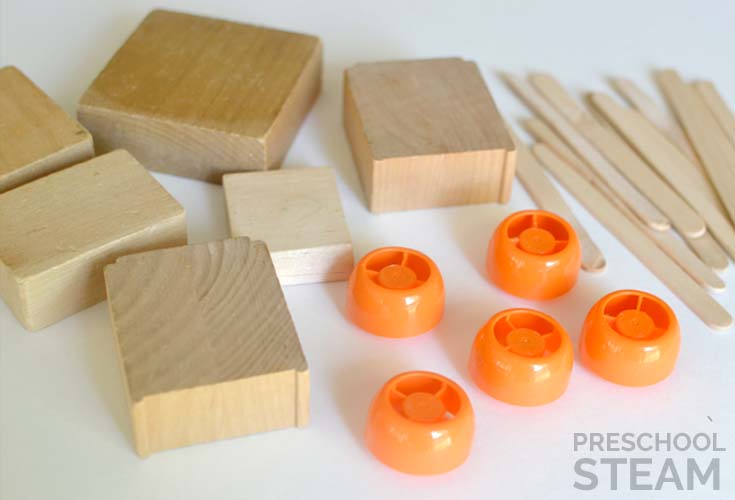 Fall Leaves Bookmarks:  The blog Beanster Bytes: DIY Fall Crafts has a very easy and low materials craft that is perfect for all ages.  Kids simply tape a fabric leaf to a popsicle stick and add a couple eyes for a cute and useful craft! Click here for a direction sheet I created to help guide students.
Instructions:
Tape the back of the leaf to the top of the popsicle stick.

Glue the googly eyes onto the leaf.

Let the leaf and googly eyes dry for an hour before you use it.
Image from Beanster Bytes
Toilet Paper Roll Crafts:  Who doesn't have toilet paper rolls hanging around the MakerSpace?  If you don't, you should!  Easy to collect and totally free… they are full of possibilities for kids to create.  Danya Banya's Blog suggests Toilet Paper Roll Monsters using yarn and googly eyes.  Add feathers, paper and other craft supplies for more fun.  Her directions are to:
Add glue to the outside of the toilet paper roll (use paintbrush or popsicle stick to "paint on glue).
Wrap wool or yarn around the outside of the toilet paper roll. (It doesn't have to be neat.) Add an extra dab of glue to the end of the yarn to make sure it sticks down.
Glue on googly eyes.
Stick on feathers or cut wool as hair by adding glue to the top inside of the toilet paper roll (use paintbrush or popsicle stick to "paint on glue).
Add any other embellishments you like!
Explore Item of the Month:  Every month, I try to take out a MakerSpace item as a focus for the students to explore and create with.  For October, I am taking out the Pattern Blocks.  Chances are you have these from math lessons you've taught at some point.  If not, ask around and see if you have any in your school that people are no longer using.
Put them out and let the kids explore patterns, shapes, colors, etc. or let them build with them.  If you want some direction to your exploration, share some task cards with them.  You can all kinds of pattern block task cards on Teacher Pay Teacher, but here are some free resources:
I hope these ideas help inspire both you and your students.  See you next month and be sure to check out my other October posts for different MakerSpace ideas.